5
It actually works
Smartphones have evolved since the beginning of their time.
Water Resistance is one of the features that actually come in handy in a smartphone when you accidentally drop it in a swimming pool or get it soaked in rain.
Android OEMs like Samsung, Huawei, OnePlus and others, offer water resistance ratings in their smartphones.
But if you really want to test the water resistance of your Android smartphone, without putting it into the water, then there is a way to get this tested.
Water Resistance Tester is an app that is available on the Google Play store that tests the integrity of your Android phone's IP67/IP68 rating.
How does it work?
The app identifies the actual water-resistance of your smartphone by accessing the device's barometer.
It also helps you test whether the IP67/IP68 water-resistance seals on your phone are still intact.
Do note that the seals can become compromised with drops and device aging, so keep your phone away from all liquids.
It is really simple to use this app.
Run the app on your Water resistant Android smartphone.
The test will start and complete with success. Great, enjoy. Run the test every few weeks or so, to make sure your drops didn't impact the seal.
If the test fails, then you can return the phone within the return period, or send it for a warranty replacement in the warranty window.
Note: The best way to use the app for testing water resistance is to remove your phone case and lay the phone on a flat surface.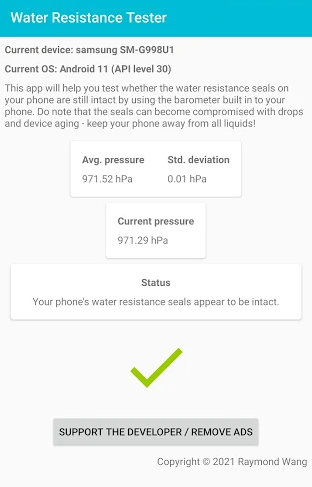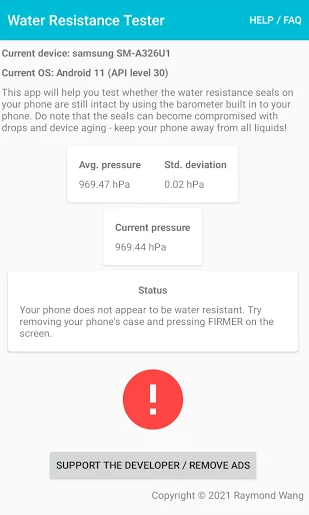 Developer Ray Wang says he created the app to help people check the state of their devices' waterproof sealing after a repair or as it degrades over time.
Also, the app appears to work reliably, based on feedback from Reddit users and Play store reviewers.
So what are you waiting for, download the app and test this on your smartphone.
If you liked it, please share it with your family and friends. Subscribe to our newsletter for more awesome content and news.
Follow our Facebook and Twitter page for more content and news.